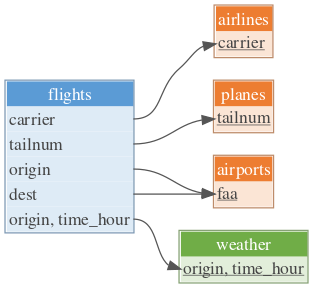 Create code to deconstruct a dm object
Source:
R/dm_deconstruct.R
dm_deconstruct.Rd
Emits code that assigns each table in the dm to a variable, using pull_tbl() with keyed = TRUE. These tables retain information about primary and foreign keys, even after data transformations, and can be converted back to a dm object with dm().
Arguments
dm

A dm object.

dm_name

The code to use to access the dm object, by default the expression passed to this function.
Examples
dm

 

<-

 dm_nycflights13

(

)




dm_deconstruct

(

dm

)




#>

 airlines <- pull_tbl(dm, "airlines", keyed = TRUE)


#>

 airports <- pull_tbl(dm, "airports", keyed = TRUE)


#>

 flights <- pull_tbl(dm, "flights", keyed = TRUE)


#>

 planes <- pull_tbl(dm, "planes", keyed = TRUE)


#>

 weather <- pull_tbl(dm, "weather", keyed = TRUE)


airlines

 

<-

 pull_tbl

(

dm

, 

"airlines"

, keyed 

=

 

TRUE

)




airports

 

<-

 pull_tbl

(

dm

, 

"airports"

, keyed 

=

 

TRUE

)




flights

 

<-

 pull_tbl

(

dm

, 

"flights"

, keyed 

=

 

TRUE

)




planes

 

<-

 pull_tbl

(

dm

, 

"planes"

, keyed 

=

 

TRUE

)




weather

 

<-

 pull_tbl

(

dm

, 

"weather"

, keyed 

=

 

TRUE

)




by_origin

 

<-


  

flights

 %>%
  group_by

(

origin

)

 %>%
  summarize

(

mean_arr_delay 

=

 mean

(

arr_delay

, na.rm 

=

 

TRUE

)

)

 %>%
  ungroup

(

)







by_origin




#>

 

# A tibble: 3 × 2




#>

 

# Keys:     `origin` | 0 | 0




#>

   origin mean_arr_delay


#>

   

<chr>

           

<dbl>




#>

 

1

 EWR             3.43 


#>

 

2

 JFK            -

4.36

 


#>

 

3

 LGA             0.523
dm

(

airlines

, 

airports

, 

flights

, 

planes

, 

weather

, 

by_origin

)

 %>%
  dm_draw

(

)