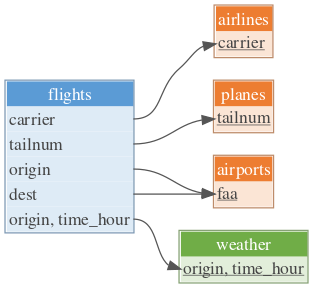 Data model class
Source:
R/dm.R
dm.Rd
The dm class holds a list of tables and their relationships. It is inspired by datamodelr, and extends the idea by offering operations to access the data in the tables.
dm() creates a dm object from tbl objects (tibbles or lazy data objects).
new_dm() is a low-level constructor that creates a new dm object.
If called without arguments, it will create an empty dm.

If called with arguments, no validation checks will be made to ascertain that the inputs are of the expected class and internally consistent; use dm_validate() to double-check the returned object.
is_dm() returns TRUE if the input is of class dm.
as_dm() coerces objects to the dm class
Arguments
...

Tables or existing dm objects to add to the dm object. Unnamed tables are auto-named, dm objects must not be named.

.name_repair, .quiet

Options for name repair. Forwarded as repair and quiet to vctrs::vec_as_names().

tables

A named list of the tables (tibble-objects, not names), to be included in the dm object.

x

An object.
Value
For dm(), new_dm(), as_dm(): A dm object.
For is_dm(): A scalar logical, TRUE if is this object is a dm.
Examples
dm

(

trees

, 

mtcars

)




#>

 

──

 

Metadata

 

────────────────────────────────────────────────────────────────────




#>

 Tables: `trees`, `mtcars`


#>

 Columns: 14


#>

 Primary keys: 0


#>

 Foreign keys: 0





new_dm

(

list

(

trees 

=

 

trees

, mtcars 

=

 

mtcars

)

)




#>

 

──

 

Metadata

 

────────────────────────────────────────────────────────────────────




#>

 Tables: `trees`, `mtcars`


#>

 Columns: 14


#>

 Primary keys: 0


#>

 Foreign keys: 0





as_dm

(

list

(

trees 

=

 

trees

, mtcars 

=

 

mtcars

)

)




#>

 

──

 

Metadata

 

────────────────────────────────────────────────────────────────────




#>

 Tables: `trees`, `mtcars`


#>

 Columns: 14


#>

 Primary keys: 0


#>

 Foreign keys: 0





is_dm

(

dm_nycflights13

(

)

)




#>

 [1] TRUE



dm_nycflights13

(

)

$

airports




#>

 

# A tibble: 86 × 8




#>

    faa   name                                 lat    lon   alt    tz dst   tzone


#>

    

<chr>

 

<chr>

                              

<dbl>

  

<dbl>

 

<dbl>

 

<dbl>

 

<chr>

 

<chr>




#>

 

 1

 ALB   Albany Intl                         42.7  -

73.8

   285    -

5

 A     Amer…


#>

 

 2

 ATL   Hartsfield Jackson Atlanta Intl     33.6  -

84.4

  

1

026    -

5

 A     Amer…


#>

 

 3

 AUS   Austin Bergstrom Intl               30.2  -

97.7

   542    -

6

 A     Amer…


#>

 

 4

 BDL   Bradley Intl                        41.9  -

72.7

   173    -

5

 A     Amer…


#>

 

 5

 BHM   Birmingham Intl                     33.6  -

86.8

   644    -

6

 A     Amer…


#>

 

 6

 BNA   Nashville Intl                      36.1  -

86.7

   599    -

6

 A     Amer…


#>

 

 7

 BOS   General Edward Lawrence Logan Intl  42.4  -

71.0

    19    -

5

 A     Amer…


#>

 

 8

 BTV   Burlington Intl                     44.5  -

73.2

   335    -

5

 A     Amer…


#>

 

 9

 BUF   Buffalo Niagara Intl                42.9  -

78.7

   724    -

5

 A     Amer…


#>

 

10

 BUR   Bob Hope                            34.2 -

118.

    778    -

8

 A     Amer…


#>

 

# ℹ 76 more rows





dm_nycflights13

(

)

[

"airports"

]




#>

 

──

 

Metadata

 

────────────────────────────────────────────────────────────────────




#>

 Tables: `airports`


#>

 Columns: 8


#>

 Primary keys: 1


#>

 Foreign keys: 0



dm_nycflights13

(

)

[[

"airports"

]

]




#>

 

# A tibble: 86 × 8




#>

    faa   name                                 lat    lon   alt    tz dst   tzone


#>

    

<chr>

 

<chr>

                              

<dbl>

  

<dbl>

 

<dbl>

 

<dbl>

 

<chr>

 

<chr>




#>

 

 1

 ALB   Albany Intl                         42.7  -

73.8

   285    -

5

 A     Amer…


#>

 

 2

 ATL   Hartsfield Jackson Atlanta Intl     33.6  -

84.4

  

1

026    -

5

 A     Amer…


#>

 

 3

 AUS   Austin Bergstrom Intl               30.2  -

97.7

   542    -

6

 A     Amer…


#>

 

 4

 BDL   Bradley Intl                        41.9  -

72.7

   173    -

5

 A     Amer…


#>

 

 5

 BHM   Birmingham Intl                     33.6  -

86.8

   644    -

6

 A     Amer…


#>

 

 6

 BNA   Nashville Intl                      36.1  -

86.7

   599    -

6

 A     Amer…


#>

 

 7

 BOS   General Edward Lawrence Logan Intl  42.4  -

71.0

    19    -

5

 A     Amer…


#>

 

 8

 BTV   Burlington Intl                     44.5  -

73.2

   335    -

5

 A     Amer…


#>

 

 9

 BUF   Buffalo Niagara Intl                42.9  -

78.7

   724    -

5

 A     Amer…


#>

 

10

 BUR   Bob Hope                            34.2 -

118.

    778    -

8

 A     Amer…


#>

 

# ℹ 76 more rows





dm_nycflights13

(

)

 %>% names

(

)




#>

 [1] "airlines" "airports" "flights"  "planes"   "weather" 
library

(

dm

)


library

(

nycflights13

)







# using `data.frame` objects




new_dm

(

tibble

::

lst

(

weather

, 

airports

)

)




#>

 

──

 

Metadata

 

────────────────────────────────────────────────────────────────────




#>

 Tables: `weather`, `airports`


#>

 Columns: 23


#>

 Primary keys: 0


#>

 Foreign keys: 0





# using `dm_keyed_tbl` objects




dm

 

<-

 dm_nycflights13

(

)




y1

 

<-

 

dm

$

planes

 %>%
  mutate

(

)

 %>%
  select

(

everything

(

)

)




y2

 

<-

 

dm

$

flights

 %>%
  left_join

(

dm

$

airlines

, by 

=

 

"carrier"

)







new_dm

(

list

(

"tbl1"

 

=

 

y1

, 

"tbl2"

 

=

 

y2

)

)




#>

 

──

 

Metadata

 

────────────────────────────────────────────────────────────────────




#>

 Tables: `tbl1`, `tbl2`


#>

 Columns: 29


#>

 Primary keys: 0


#>

 Foreign keys: 0